Joined:
March 2022
Posts: 1

Location: Isle of Wight
Hi I have an left handed ovation guitar model number 1117, it is an acoustic electric but has no volume knob on the outside of the guitar is this normal? It plays well, and I have no idea of it's age. ANY IDEAS? PLEASE.

Regards

Malcolm

PS I would send a picture but I don't know how to do it.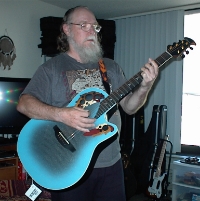 Joined:
September 2006
Posts: 10777

Location: Keepin' It Weird in Portland, OR
If the model number is 1117 it was made as an Acoustic (only) guitar.
Someone later in life added the pickup. So that is just "direct out" to the amp.
You can either control it thru the amplifier or use an added pedal.
I hope that is helpful.