Joined:
September 2018
Posts: 1


I have an over 20 years old Celebrity CS-148 which had the pickup removed. I already reduced a Tusq compensated saddle to my preferred action height, and I want to begin using the guirar with an amp. An Ovation replacement pickup will not work correctly with this saddle and the replacement combo saddle/pickup from Ovation rises the action too high. The Ovation saddle custom underside makes it impossible to remove material from the bottom without messing with the sound, and removing material from the top without loosing tonality is a pain, hence the desire to use my current saddle.

I would like to install an under the saddle ribbon pickup that can use the existing guitar pre amp. Any suggestions are welcome.

Regards.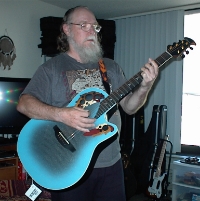 Joined:
September 2006
Posts: 10351

Location: Keepin' It Weird in Portland, OR
If you have a preamp that has an 1/8" jack to plug-in the Pickup, you can just get any undersaddle pickup that has a plug.
I have used the Artec PP607.
They are cheap and effective and do not feed-back.
But anything that will plug into the current preamp will do.