Joined:
August 2005
Posts: 3736

Location: Sunshine State, Australia
I currently have AJ's VXT on loan and it seems that the tone control only affects the 'electric' pickups, not the piezo 'acoustic' pickup. Is that correct?
Does anybody have a schematic diagram of the VXT's circuitry to see if it can be re-routed to include the tone control in the piezo circuit?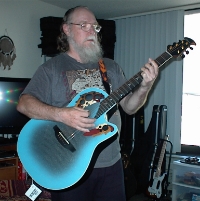 Joined:
September 2006
Posts: 10735

Location: Keepin' It Weird in Portland, OR
Yup. The tone control only applies to the magnetic pickups.

Yeah... They should have made it work with the piezo too.

No, I don't think that there is a way to add a tone control to the piezo.
The controls are all on this circuit board.